<!- mfunc search_box_body ->

<!- /mfunc search_box_body ->
<!- mfunc feat_school ->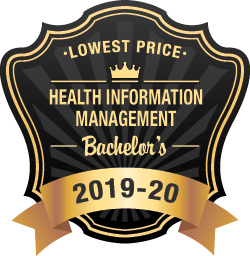 Healthcare informatics lies at the intersection between two already complex fields, so it's no surprise that it's a difficult business to learn. The acceleration of technological advancement plotted out on a two-axis chart looks like a rocket ship taking off. In less than a generation, we've gone from green screen text on tiny CRT monitors to powerful handheld devises now able to wirelessly interconnect with any other device on the planet.
It's equally clear that the explosive growth and technological advances occurring in both those fields are going to continue to drive demand for professionals who can keep up with the complexity. In fact, there are still clinics and hospitals out there using those antique, text-based green screen systems.
According to international consultancy firm Deloitte, global health care expenditures are expected to grow at an annualized rate of 5.4 percentin the five years leading up to 2022, an increase of nearly $3 trillion. And healthcare technology as one of the supporting factors for that growth.
Without a strong workforce of health information experts, that growth may grind to a halt… even though the demand for healthcare never will.
With a bachelor's degree in HIM, you'll find a place for your technical talents in a field where salaries are rising amid a growing demand for talented professionals with the right mix of skills. But the very fact that it's such an in-demand field means finding an affordable degree program can be a challenge.
That's exactly why we took the time put together a list of the best-priced CAHIIM-accredited HIM degrees the country.
CAHIIM Accreditation Means A Quality Program
CAHIIM, the Commission on Accreditation For Health Informatics and Information Management Education is an independent accreditation agency recognized by the Council for Higher Education Accreditation (CHEA)as the primary body for establishing and enforcing quality standards for higher education programs in healthcare informatics.
The standards also go into supporting knowledge from the medical field, ensuring you have the kind of grounding you need to dive into the sometimes esoteric elements of medical terminology.
But the process doesn't stop with the curriculum. CAHIIM also looks at factors such as the program mission, goals, and faculty development. They mandate an advisory committee to help keep programs aligned with evolving industry requirements in a field where change takes place nearly as rapidly as technology itself.
The reasons we restricted our list to CAHIIM-accredited programs should be obvious: as the field of healthcare IT grows and professionalizes, employers need to know they are hiring candidates with an education that meets a high level of knowledge and expertise.
Sure, the final proof of your job-readiness usually comes with the AHIMA (American Health Information Management Association) certification you end up pursuing after you earn your degree. But even that relates back to the quality and reputation of your undergraduate program since holding a CAHIIM-accredited bachelor's is the standard way to qualify for AHIMA's RHIA (Registered Health Information Administrator) certification exam.
By attending a program that CAHIIM has given its stamp of approval to, you can be sure that any prospective employer out there will take one look at your credentials and recognize you as a qualified candidate.
Doing the Work of Finding the Best-Priced HIM Bachelor's Programs
Even though we're giving you the best priced programs available, that doesn't mean any of them are cheap. Health Informatics isn't an easy field to learn, but it is a lucrative one… the 2016 AHIMA (American Health Information Management Association) Salary Snapshot for HIM Professionalsshowed an average salary in the field of $83,790. With that kind of money ahead of you, you can expect to have to shell out some big bucks for a solid education.
In each region, most HIM bachelor's programs tend to cluster in a certain price range, driven by demand, expenses, and other factors. We started at the bottom end of those ranges and chose only the schools in each region with the lowest total program cost.
Though a number of schools here accept two-year transfer degrees and offer bachelor's completion programs in HIM, to ensure an apples to apples comparison, all the price analysis we conducted and the tuition rates we show are based on the full four-year course of study.
Decisions Aren't Made on the Basis of Price Alone
We know you don't just make big decisions like this based on price alone. You can be sure these programs are low on cost, but they don't compromise on anything to give you lower tuition rates. There are a lot of factors you will consider when picking the right bachelor degree to start your HIM career, and we present you with all of that information here.
In addition to giving you the cost of the program and how it stacks up, we look at things like job placement rates, whether or not online courses are available, how closely the program is connected to actual healthcare agencies or hospitals, and pass rates on major industry certification exams, namely the RHIA exam. We also look at resources available to students and any special labs or facilities available to further your studies.
The Most Affordable HIM Bachelor's Programs by Region
With affordable, highly-quality programs available in every corner of the country, you won't have any trouble finding an option on our list that gives you everything you demand from a four-year program in health information management, and that does it all while still offering the lowest tuition rates around.
---
---
Regional average: Public (PU) – $36,291; Private (PR) – $73,076
Regional average: Public (PU) – $52,716; Private (PR) – $103,238
Regional average: Public (PU) – $32,944; Private (PR) – $66,384
Regional average: (PR) $76,613
All schools shown here have been contacted and informed of their inclusion on this list. Schools that do not wish to be featured are immediately removed. School names are the registered trademarks of their original owners. The use of any trade name or trademark does not imply any association with the school.