<!- mfunc search_box_body ->

<!- /mfunc search_box_body ->
<!- mfunc feat_school ->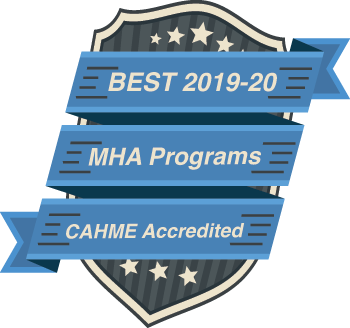 No one interested in earning a master's degree in health administration wants to pick a program from somewhere in the middle of the pack. It stands to reason that eager graduate students interested in leadership roles in healthcare organizations, medical device and pharmaceutical companies would be looking for programs that lead the pack. It's a big investment after all, so it's wise to make sure you're getting the biggest bang for your buck.
The medical industry is a $3.3 trillion behemoth, representing almost 18% of total GDP in 2017. This is an industry where bad decisions can literally cost lives, and where rapid innovation is upending how business is done, requiring leaders who are miles ahead of the curve.
Healthcare already employs more workers than any other American industry, but managers are struggling to fill open positions as the massive shortfall in qualified front-line professionalsbecomes a chronic problem, and one that's getting worse every year. At the same time, the people managing that whole complicated ball of wax are going to be overseeing a period of explosive growth in the coming decade, with projections suggesting that today's $3.3 trillion industry could be worth nearly $6 trillion annually by 2026.
It's not a field you get into if you're not prepared to be the very best, both personally and academically. If you want to be an executive taking responsibility for some multi-million dollar chunk of this freight train, you had better get the best possible training you can, because you're going to need it, day one.
And that means pinpointing the best CAHME (Commission on Accreditation of Healthcare Management Education)-accredited master's in health administration you can find.
A Health Administration Master's Can't Be the Best Without Being CAHME-Accredited First
CAHME was founded in 1968 specifically to accredit master's-level programs in healthcare administration and leadership. It's been recognized by CHEA, the Council for Higher Education Accreditation,and the U.S. Department of Education,so clearly they know what they're doing over there. As of 2018, it's gone global, working with programs both in North America and around the world to ensure they are offering the absolute highest standards in healthcare executive education.
These standards run through everything – from faculty selection and hiring, curriculum development and review, and graduate outcomes, to administrative policy and procedures.
This all happens through an in-depth evaluation process that includes reams of paperwork, on-site visits, and interviews. Staffed in part by industry veterans and with input from major insurers, medical associations, and provider societies, CAHME takes its role as gatekeeper seriously.
And the Commission doesn't rest on its laurels, either. Healthcare changes fast, and so do the CAHME assessment standards. As recently as 2018, CAHME rewrote rules to improve the flexibility and continuous improvement of accredited programs. It all adds up to make CAHME approval the bare minimum for making our list.
How We Found The Very Best In An Elite Crop Of Schools
We made our selections for this list only after a careful review of the more-than-70 universities across the U.S. offering CAHME-accredited programs. This involved a long look at dozens of MHAs and MS degrees in health administration, MBAs with a health management concentration, and even MPA and MPH programs with a health administration focus.
In the end we felt it was well worth the effort to be able to present our readers with a short list of programs we could feel confident calling the very best.
Here's some of the things we looked for…
Strong on Career Preparation
All universities need to give attention to attracting students, but you don't want a program from a school that spends more time and money on a slick website design than they do on curriculum development. The bottom line is that curriculum has got to be more than current – it needs to be ahead of the game in this industry with plenty of attention given to preparing health organization leaders who are beyond comfortable with data-driven strategic decision-making and the technology behind it.
Differentiated Approach to Teaching
The wise souls at CAHME don't look for cookie cutter programs, and either do most health administration grad students. Naturally, we recognize that various specializations, teaching approaches, and techniques can all be equally valid, and that some of those alternative approaches may prove valuable to different types of students.
Some schools also offer a little something extra in terms of credentialing—one program offers certificate options in health care informatics or Six Sigma Green Belt status… both in-demand specialty areas that will make your resume jump right out of that stack and into the hands of the right person.
Student Experience and Experiential Learning
We looked for schools that offer a little something extra, setting themselves apart in the way they create an exceptional student experience and bring concepts to life through experiential learning. Things that stood out to us included opportunities for studying overseas, outstanding on-campus research centers and programs, superstar faculty, great internship opportunities, and national and international awards that recognize achievement in these areas. All of this is often reflected in high graduation and placement numbers among graduates in recent years.
Value
Even though you'll be making big bucks as a healthcare executive, we know that nobody goes into a degree program with a blank check. Value is an important part of education—you want the most mileage out of your tuition dollars you can get.
When reviewing graduate degree programs is your business, you get a feel for when tuition rates are marked up, versus those that are set at a price that is genuinely reasonable. None of these degrees come cheap, but then again you're not looking for a cheap program, you're looking for a good one at a decent price. That's why we gave extra consideration to any program that delivers an exceptional education at a price that is comparable to the competition.
Flexibility and Scheduling Options
We also looked at format and scheduling. Many graduate students are coming in with family commitments and existing professional responsibilities. Maybe you can't just drop everything and relocate for two years to get your degree. Whatever the case may be, every graduate student these days requires some degree of flexibility, so we found schools with online options, or that offer programs with evening or weekend classes designed to meet the needs of busy executives.
Top Picks: A Short List of Our Favorite Health Administration Master's Programs in the U.S.
We didn't just give you a list and leave you out in the cold to figure out the important elements of the programs on your own. We give you all the key points right here. You'll find information on admissions standards, whether or not you'll need to go out and take an exam like the GMAT to be considered for the program, whether or not there are restrictions on the dates you can begin courses, pace and scheduling options, and more.
Maybe you're already working in healthcare management and plan to earn a master's to improve your shot at an executive position, or maybe you're just graduating from your bachelor's program and want to start off on a track that will position you for a leadership role. In either case, it's worth taking a few minutes to review our top picks to see if the right program for you is somewhere on this list.
This list features programs that our editorial staff hand selected to present as top recommendations. We believe the many aspects of a program that come together to create an exceptional student experience can't be reduced to numbers alone, so no formula was used to attempt to score or rank these programs. Instead, they represent our top picks based on a thoughtful review of the things we know mean the most to students. Each one of these programs offers something unique, and all come equally highly recommended. We stand behind the principal of editorial integrity and make these recommendations independently and without compensation.
All schools shown here have been contacted and informed of their inclusion on this list. Schools that do not wish to be featured are immediately removed. School names are the registered trademarks of their original owners. The use of any trade name or trademark does not imply any association with the school.