<!- mfunc search_box_body ->

<!- /mfunc search_box_body ->
<!- mfunc feat_school ->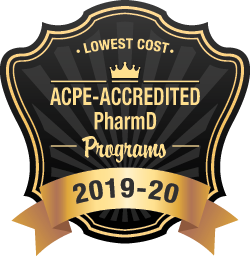 Even within the juggernaut of the American healthcare industry, pharmaceuticals are a major force. Inside the U.S., pharmaceutical sales amount to around $333 billion annually. The industry employs more than 810,000 and leads the world in research and development expenditures. There's no question, it's one of the most critical and competitive sectors in the American economy.
That all adds up to an industry that is constantly hungry for new hires, and one where those new hires had better have a solid and up-to-date education in the latest knowledge and techniques.
That's where the Doctor of Pharmacy degree comes in. With a PharmD hanging on your wall, you can find high-paying, interesting, fulfilling positions in research, manufacturing, clinical practice, or teaching, among other specialties.
You likely already have a few criteria in mind as you consider what schools you're going to apply to, and we think we know what a some of them are: you want a good education, at a reasonable price, and you probably don't want to travel a long way to get it.
Which is why we put together this list of the best value ACPE-accredited PharmD programs in the country—both public and private—for each region. You can find the education you need at the price you can afford while staying in the area you plan to live and practice in.
ACPE Accreditation Is The Only Route To Professional Pharmacy Practice
Why do we only include ACPE-accredited programs? For starters, the Accreditation Council for Pharmacy Education is recognized by the U.S. Department of Educationand the Council for Higher Education Accreditationas being the go-to specialty accreditation agency for pharmaceutical programs. It offers an impartial, professional judgment of the quality of pharmacy programs that cuts through the marketing jargon and offers honest evaluations that students and their future employers can rely on.
Most importantly, an ACPE-accredited doctor of pharmacy is the only degree accepted by the NABP (National Association of Boards of Pharmacy) as meeting the qualifications to sit for the NAPLEX– the North American Pharmacist Licensure Exam. Without a license, your options are pretty limited, so accreditation is a key feature to look for.
That's because ACPE holds schools to the highest standards required to hold a position of authority in any pharmacy… standards that have been determined by the industry itself for evaluating new graduates and prospective hires. ACPE accreditation means that you are receiving the same foundational knowledge as every other PharmD graduate in the country. It ensures that you are being taught that knowledge by faculty with the right credentials for the job, in classrooms and labs that are suitable for the purpose, and with the interprofessional elements you will need to interact with other healthcare professionals out in the real world.
ACPE-accreditation isn't a one and done deal, either: part of becoming accredited is planning to exceed those standards through a system of constant improvement. And ACPE holds schools accountable, returning after two years to take another look to ensure that they have been following the plans in place and keeping their commitments.
That's where the quality aspect of value comes in, and it's why you will only see ACPE-accredited schools on this list.
After Accreditation Comes Our Value Assessment
For our selection criteria, we started with the average cost of PharmD programs within each region of the U.S. to establish our value measure. Only programs in each region that come in below the average ultimately made the cut. And we didn't include all those programs, just the handful in each region with the absolute lowest tuition rates.
So that we're only comparing like-to-like, we found the average cost for public and private universities separately. They have different financing and operating paradigms, and can offer tuition rates that differ considerably, especially when resident discounts are taken into account. Resident rates offered at state schools can be hard for a private institution to beat, but non-residents and international students often find the opposite is true since private schools often represent the lower cost option for them.
You'll find both categories in this list, and we give you the lowest cost option of each.
You Can't Choose a Program on the Basis of Price Alone
Accreditation, as important as it may be, is only a baseline. ACPE itself declares that not all accredited programs are equal, nor should they be: there are different ways to teach the same subjects, and different ways schools really should be working to exceed the baseline standards.
So we looked at all those ways in which an inexpensive program might still exceed the baseline for career preparation and student experience, and included that information here to help you in making a fully informed decision, not one based on price alone.
We include information on objective elements such as:
NAPLEX average pass rates
Overall and on-time graduation rates
Faculty to student ratios
Research funding
Faculty qualifications
We went even further than that looking into those little extras that may be a make or break deal for some applicants, no matter what the tuition rate might be. We looked at things like residency options and opportunities for gaining experience overseas; we note exceptional curriculum designs or unusual approaches to teaching to fit different learning styles. Does the school offer postings with a unique focus that could help you specialize in a field like pediatrics? You'll learn about it here. Is it important to you to have faculty who have earned a doctorate in the field? We let you know when that's the case.
We also give you important qualifying information like entrance exam and prerequisite credit requirements, and we tell you how long the program lasts and how many credits you'll have to earn to graduate.
The Best Priced ACPE-Accredited PharmD Programs by Region
Everything you need to know to make the right choice is listed here for you in black and white, and since we've done our homework on the quality and cost of each of these programs, you can rest assured that they all provide a solid value for your money.
Here's a key showing the public/private average total program cost and average cost-per-credit for PharmD programs in each region:
West:

Average public school cost $98,298 / $614 per credit
Average private school cost $192,250 / $1,200 per credit

South:

Average public school cost $86,317 / $577 per credit
Average private school cost $141,223 / $923 per credit

Midwest:

Average public school cost $97,745 / $685 per credit
Average private school cost $159,595 / $1,042 per credit

Northeast:

Average public school cost $104,087/ $743 per credit
Average private school cost $162,900 / $1,122 per credit
---
---
Average public school cost $98,298 / $614 per credit
Average private school cost $192,250 / $1,200 per credit
Average public school cost $86,317 / $577 per credit
Average private school cost $142,422 / $922 per credit
Average public school cost $97,745 / $685 per credit
Average private school cost $159,595 / $1,042 per credit
Average public school cost $104,087 / $743 per credit
Average private school cost $162,900 / $1,122 per credit
All schools shown here have been contacted and informed of their inclusion on this list. Schools that do not wish to be featured are immediately removed. School names are the registered trademarks of their original owners. The use of any trade name or trademark does not imply any association with the school.