<!- mfunc search_box_body ->

<!- /mfunc search_box_body ->
<!- mfunc feat_school ->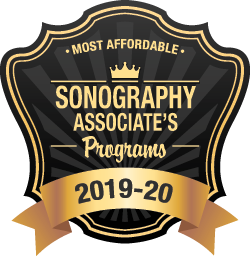 For a lot of people, getting into sonography is an obvious career choice for a couple of good reasons: it's accessible and it pays well. With only two years of intensive study behind you, you can open the door to a career that offers more than 1.5 times the median American salary. It's a career that is enjoying the boom that all medical professions are going through right now, with the number of jobs over the next decade predicted to jump by 17 percent.
It's a role you can get into without any previous experience, but that AS or AAS degree is key. And although you will be making good money when you come out the other side and land a job in the industry, we won't pretend cost isn't a factor… you don't want to be saddled with the kind of student debt that ends up chipping away at those paychecks for years.
That's why we put together this list of the most affordable sonography associate's degrees available in America.
Don't Put Price Over Quality—CAAHEP Accreditation is Key
It's only natural that you're going to consider cost, but it definitely shouldn't be the only thing you look at.
That's why specialty accreditation is so important even when looking at associate's degrees. It's a stamp of approval from an unbiased agency that tells you that you're getting a solid education that covers the right topics at the current state of the art in the industry…and not some third-rate program that gets you laughed out of the first clinic you apply to.
In the world of medical sonography, that accreditor is CAAHEP, the Commission on Accreditation of Allied Health Education Programs. CAAHEP doesn't just cover sonography. As the name implies, they accredit programs covering a wide range of medically-related professions, everything from lactation consultants to intraoperative neurophysiological monitors.
That breadth of scope gives them an unparalleled perspective on the interprofessional requirements for solid healthcare education. With a role such as sonography, that's even more important—sonographers are the eyes of many other medical professionals and have to be able to work seamlessly with them.
The Council for Higher Education Accreditation recognizes CAAHEP as a specialty accreditor of sonography degree programs, which tells you that despite being responsible for evaluating and accrediting degrees in several healthcare fields, they have the kind of specialized knowledge of sonography specifically to be able to set and evaluate curriculum and training standards.
With those skills in mind, the commission has developed an extensive list of standards required of sonography programs that considers things like:
Program funding and funding sources
Resources available to students, instructors, and administrators, and how those resources support their goals
Minimum standards for hands-on experience and training facilities
Faculty qualifications and backgrounds
Curriculum and competencies
It's not just an aspirational list, either; schools applying for accreditation have to document their compliance and submit it to the commission for review. But even that's not good enough… afterward, the commission will conduct a site visit to verify the report. It is a time-consuming process that is absolutely worthwhile in establishing the credentials of a program and making sure it's capable of delivering the kind of education you will need to succeed in the field. That's why we only considered programs for this list that have achieved full CAAHEP accreditation.
The Method We Used to Compile This List
The great news for someone like you considering a career in sonography is that there are a lot of great, inexpensive schools to choose from. In fact, there were so many that we couldn't even keep ourselves to choosing only one per state.
A Simple Formula To Find The Most Affordable Programs
We looked for the lowest cost generalist sonography programs in each state, breaking down the total costs and comparing them to the state average for similar programs. We included every program in the state within about $1,000 of the lowest number (because costs can always vary slightly based on your individual lesson plan and schedule).
Comparing Apples-To-Apples To Make Comparisons Accurate
We also kept the playing field level by only looking at the cost of the generalist concentration at each school. Specialty sonography degrees are a hot item but not every school offers every specialty, and the extra courses or lab time you might have to spend to earn them can throw off the numbers.
We have, however, included the cost data for each of those tracks, and we document which schools offer which specialty and how the prices of those programs stack up.
No Fillers, Just Top Value Programs
We didn't just throw in schools just because they happened to be the only choice in a state. If the only available schools in certain states also happened to have tuition that was way out of line with the national average, we dropped them… you're getting only top value listings here.
The 63 Most Affordable Sonography Associate's Degree Programs in America
So here you have it – only the best, fully-accredited sonography associate's programs offered at the very lowest prices, and all organized by state.
Wherever you might live, we're confident you'll find the right program for you right here on this list.
All schools shown here have been contacted and informed of their inclusion on this list. Schools that do not wish to be featured are immediately removed. School names are the registered trademarks of their original owners. The use of any trade name or trademark does not imply any association with the school.