<!- mfunc feat_school ->

Featured Programs:

Sponsored School(s)
Sponsored School(s)
All school search, finder, or match results, as well as colleges and universities displayed as "Featured School(s)" or "Sponsored Content" are advertisers that compensate us for placement on this site. The resources, editorial content, and school evaluations published on this site are developed independent of the schools that advertise here.

<!- /mfunc feat_school ->

Healthcare is a rapidly expanding field. Due to aging baby boomers, the demand for nursing is exploding, leaving many opportunities for people who want to enter the healthcare field today. Not only do people in this field get to make a difference in the lives of others, the wide array of opportunities and openings creates a high degree of upward mobility and potential success.

If you're thinking about earning a degree as a nurse, it makes sense to start as a CNA, or certified nursing assistant. This is the lowest level of certification needed to work in a nursing capacity, and will enable you to start work quickly. While some people are content in this role for life, many then choose to work their way up to a registered nurse, nurse practitioner or even higher. If you're not sure whether or not nursing is right for you – which is the case with many people – this is a great way to test out the field. The certification doesn't take long, and you can begin working quickly and see if you like it.

Interested? In this article, we're going to discuss what a CNA is and what they do, what a day in the life looks like, how you gain the expertise and get certified to work as one, and more. We'll also discuss the job outlook in more detail, as well as the best ways to ensure you're attractive to employers when you graduate from your program.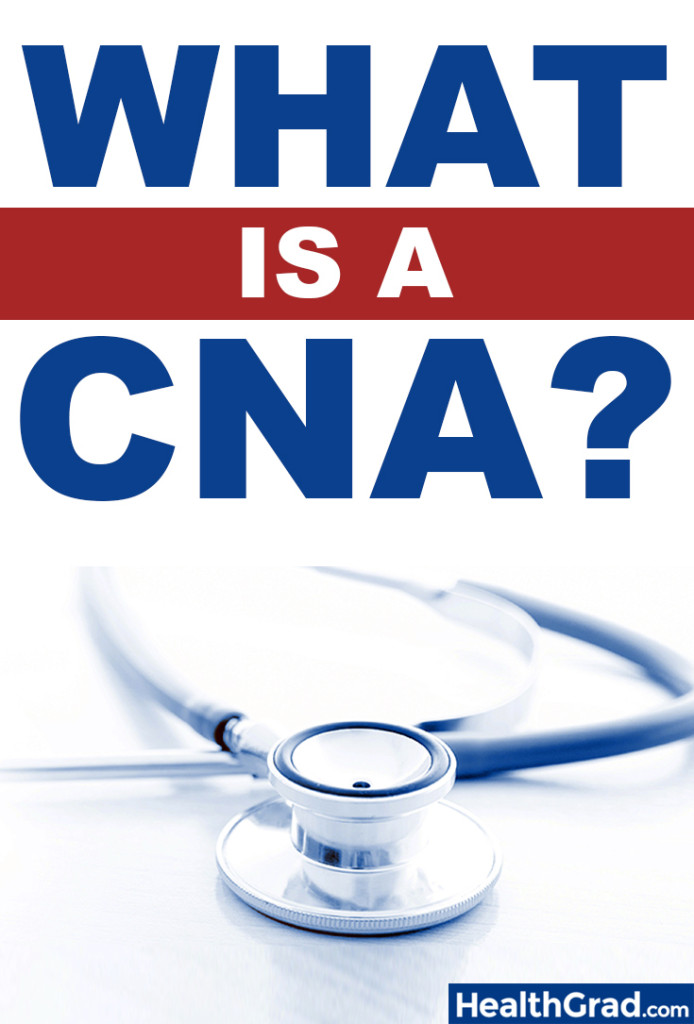 What Does a CNA Do?
Nursing assistants are sometimes also referred to simply as nursing assistants, or as nursing aides (remember that CNA stands for Certified Nursing Assistant). The basic role involves working under a nurse to help oversee the health and wellbeing of patients in various environments.
To this end, CNAs provide basic care for people in hospitals, long-term care facilities and nursing homes. The role of CNA is very hands-on, helping to move and feed patients, bathe them and get them dressed, assist them with toileting and other daily tasks. Because many of the elderly can no longer do these daily tasks themselves, CNAs are vital to keeping them healthy and happy. Moreover, they provide a measure of independence to the people they help, enabling them to live their lives.
A CNA reports to their overseeing nurse routinely, keeping them informed about how patients are doing and contributing to the nurse's (and above them, the physician's) understanding of the patient's health. This helps create continuity of care, in which the patient is being attended in the same way by different caregivers, and ensures the best possible treatment plans for them.
A Day in the Life of a CNA
Featured YouTube Video

Depending on where they work, in what state and in what capacity, the form a CNA's day takes can vary widely. Some of the factors that will change the day include:
Shift times. Since patients need constant care, many CNAs work overnight or swing shifts to ensure that their patients are always attended. New CNAs may not have regular schedules, even if they work at night, which can be difficult to adjust to.
Population. The majority of CNAs work with elderly populations, although they may also work with populations of children, cancer victims and so on. Depending on who you work with, your daily tasks will vary.
Daily tasks. These range from dressing and feeding to toileting and taking out for exercise. Most of these tasks are routine, and CNAs will soon fall into a rhythm of helping their patients throughout the day (or night).
Paperwork. CNAs are responsible for keeping paperwork on their patients to ensure that the overseeing nurses and physicians under which they work can follow the patient's progress and make the best recommendations for treatment.
Location. CNAs may work in a variety of settings, which will determine whom they work with and the form their days take. In the hospital, for instance, CNAs will likely see a rotating cast of patients, while in a long-care nursing facility, they will serve the same patients over and over again.
Depending on whether you are stimulated by many new people or forming long-term relationships, on what type of hands-on care you enjoy providing, and on whom you want to work with, you should choose your job accordingly. (Of course, sometimes you do not have much say at where you get a job offer, but we will help you increase your chances in the final section of this guide.)
The Job Outlook
According to the Bureau of Labor Statistics, Certified Nursing Assistants can expect to make an average of $12.36 per hour. This translates to roughly $26,000 a year, which will increase depending on the nurse's length of tenure. The job outlook is very good, with CNA roles projected to increase 16 percent between 2014 and 2024. That means an additional 267,800 jobs will be added by the end of 2024, which makes this a great time to begin work as a CNA.
Note, however, that according to the BLS, employment in all healthcare professions combined is increasing at a rate of 19 percent between 2014 and 2024, which is a little higher than the rate at which CNA roles are growing. This is mostly due to more advanced, specialized roles, for which there is greater need. For this reason, many people choose to advance to a higher level of nursing, such as becoming a nurse practitioner or a certified nurse midwife. Job growth for these roles is increasing at a whopping 31 percent, which means you would never have trouble finding a job again. Moreover, the pay is considerably higher.
Of course, CNAs still make good money considering it is an entry-level position, so if you are content to stay in that role for a while, it's a very good choice. It's just important to know what your options are and to constantly be reassessing what the right career path is for you.
Before you can assess that role too closely, however, you need to get certified as a CNA.
The Certification Program
In order to get certified as a CNA, you must first complete a CNA program. These take different forms, but are most frequently offered at community colleges. You do not need a high school diploma in order to become a CNA, which is often an advantage to younger people who wish to start working. However, some Registered Nursing programs will require you to have a diploma anyway, and many employers want to see one, so it might behoove you to stay in school and earn it, or as a substitute, get your GED.
Once you have completed the program, it's time to get officially certified. Getting certified as a nursing assistant varies from state to state, so you should check with your individual program to find out exactly what you need to do. Usually you need to:
Fill a certain number of hours (85 is typical) of state-approved training
Get a passing score on the CNA competency exam used by your state
Complete a statement about your physical, mental and conviction status
Take an HIV/AIDS training course
Again, these requirements typically vary depending on the state – and sometimes on the facility in which you want to work, which may have its own requirements – so check with schools and with potential employers before deciding on a program. And always, always make sure your program is approved by your state before enrolling, otherwise you may end up spending a lot of money on a certification that doesn't end up being worth anything. To check, you can contact the health or nursing board in your state directly. Often the information is listed on their website, but if it isn't, you can call or email to get an answer.
CNA Certification Endorsements
CNA certification endorsements are a little different from the certification itself. An endorsement is approval to work in a state other than the state in which you completed your training and got your certification. It is possible in many states to receive an endorsement so that you don't have to complete new state-approved training and take another exam. If this is true in your new state, you'll simply need to prove you've met all the requirements, and then you can begin working in your new home.
The License
Many people confuse the certification and the license, but you need both in order to work as a CNA. While certification attests that you have met all the requirements to work as a CNA and have a grasp of the basic knowledge required to serve in this role, a license is required in order for you to legally practice in your state.
In order to get the license, you must meet a number of different requirements. Again, these vary by state, but typically include the following categories:
Age. Even if you choose not to get your high school diploma, most states won't allow you to work until you are 16. Even then, some facilities will not hire you until you are 18. It's very important to check your state's rules before you decide whether or not to embark on a program.
Education. Your education can either come through the CNA program, or through a mix of CNA program classes and high school classes, which may fulfill some requirements of the program. It's important to find out whether your CNA program and the facilities in which you want to work require a diploma. If so, stay in school or make plans to get your GED.
Vetting. This process is used to ensure you are not a criminal, and are safe to work around the populations with which you will be working. It typically involves a mental health screening, drug testing and possibly fingerprinting.
There may be other areas you need to address in order to get your license, so again, check with your state.
As a final note on licensing, it's important to understand that CNAs must always work under the direction of a nurse who is also licensed. While some people may tell you that this isn't the case, and that CNAs can work directly for physicians, in clinics or among the general public without nurse oversight, this is not true. Moreover, it can be a punishable federal offense, so be sure once you're certified you don't lose that hard-won certification or license by making the wrong move.
Choosing a CNA Program
There are many types of CNA programs to choose from. They may be offered at high schools, community colleges or four-year universities, or they may be online. Many CNA programs are a simple certification program that typically takes 85 hours (varies by state), though some are bridge programs that will eventually lead to you earning an RN. What you choose depends on your future goals.
There are also many online programs, which makes it easy to pursue schooling from home or another place of your choosing. This can enable you to earn your degree with comfort and flexibility, even while working or taking care of family.
Finding a Job and Advancing Your Career
If you want to ensure you get a good job upon completing all your requirements, volunteering during school or completing an internship are both valuable assets. You should also have an error-proof resume and cover letter. If you aren't good with grammar or spelling, have someone who is check it for you. It sounds trite, but you only get one first impression.
Do this, and you will almost certainly get the role you're looking for. Healthcare as a profession will only grow into the next century, and earning your certification now is an excellent way to make sure you can be a part of that growth, with all the opportunity it brings. So don't wait any longer to start looking for the program that will help you get the job you want. Chances are you'll love your new career as a certified nursing assistant. We wish you the very best!