<!- mfunc search_box_body ->

<!- /mfunc search_box_body ->
<!- mfunc feat_school ->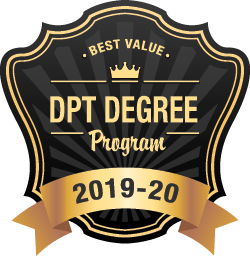 It's easy to see why a career in physical therapy is so attractive to so many people– a well-paying job where you get to help people all day long is always going to be popular. PTs tend to be happy, healthy, satisfied people, and it's no wonder; they have a fun job, working in environments where people value fitness, individuality, and creativity.
Physical therapy consistently ranks among the 100 best jobs in America. And unlike other positions on the list, it's been there for a long time and will probably stay there for a long time to come. With the number of new positions expected to increase by 36% to keep pace with demand during the ten-year period leading up to 2024, you don't have to worry about the bottom dropping out of the market anytime soon.
There's an evolving vision for the role of the PT in America today, driven by the demand for independent practitioners who can be flexible and creative when responding to the unique needs of each and every client. A greater focus is being placed on collaboration, value and patient advocacy, with PTs being expected to think outside the box and work with other therapists and healthcare professionals to develop innovate solutions tailored to the individual.
This combination of accountability, expertise and autonomy has led to the  Doctor of Physical Therapy becoming the established minimum entry-level requirement for getting into the field.
That's great news for both patients and for the profession as a whole, but it also means you'll be making a very substantial financial investment to get your DPT. On top of your four-year bachelor's program, you'll spend an additional three to four years in a doctoral program, followed by a residency or fellowship before actually beginning professional practice.
That all amounts to a lot of money being shelled out for your education – often $100,000 or more – but it's a sound investment in the solid earning potential that comes with it.
Of course you're not going to compromise the quality of the education that's going to prepare you for your career, but it would be nice to keep those lean years of eating ramen and taking the buss to a minimum. That's why it's important to find a DPT that offers you the best possible value for your money. And we've got just the list for you here.
Identifying The DPT Programs That Offer The Best Value
It's important to understand that value doesn't just mean cheap, though. You need a degree that is more than just a piece of paper. You want to learn from professors with rock-solid credentials and years of real-world experience… you want a program with a proven track record of results, producing graduates who consistently ace the NPTE exam… and you want to know you're getting it all at a good price.
CAPTE Accreditation As a Base Qualification
It's only natural that we would draw our list exclusively from programs that have been accredited by CAPTE, the Commission on Accreditation in Physical Therapy Education.
CAPTE is the only accrediting body authorized to evaluate physical therapy programs at the doctorate level, establishing minimum curriculum and student outcome standards, reviewing the mission and accomplishments of the program, ensuring resources are available to meet educational goals, and setting qualifications and standards for faculty.
When you pick a CAPTE-accredited program, you know you'll be satisfying all the education requirements for examination and licensure.
A Passing Grade On The NPTE Is All-Important
Value can be somewhat subjective since the elements of a program that different students value can differ. One thing, however, is universally true: All graduates will need to take and pass the NPTE exam, and the performance of past graduating classes is a good measure of how well the program prepared them.
Although CAPTE already incorporates program licensure pass rates into their accreditation process, we went further by only looking at schools that have a 100% pass rate on the National Physical Therapy Exam for the past two years minimum (2016 and 2017).
The NPTE is the next important step on your road to becoming a physical therapist. As a test of the actual knowledge that you will take away from your DPT program, it's a pretty good proxy for the quality of that program, and another sign of a great value for your tuition dollars.
Finding Affordable Schools Among The Top Ranked DPT Programs
Once we found the best schools, we worked on finding the most affordable among them.
We split the list in two, for starters: public and private schools have different cost structures and offer different advantages to students, so you can't really make a meaningful comparison between the two on the basis of price alone. So we actually found two schools for each state (in states that have both): one public and one private.
Then we averaged the total cost of the programs in each state, finding the average for public and private schools separately. In states where there's just one school, or one school from each of these categories, we went ahead and included them to make sure you're aware of the DPT programs available in your state and how much they cost.
What you get here is the lowest cost program in each category for each state—a top-rate program at a rock-bottom price. We list both the average and final rates, and the difference between them, along with other critical information:
Post-graduation employment rates
Unique curriculum options and structure
Overseas study offerings
Key faculty contributions or qualifications
Important industry ties or outstanding facilities
The Very Best DPT Programs in Each State with the Lowest Tuition Rates
Here you'll find only the schools delivering the best results at the very best price. Take a minute to find your state and you can be sure you'll come away with some key bits of information you'll need to make an informed decision about your enrollment.
All schools shown here have been contacted and informed of their inclusion on this list. Schools that do not wish to be featured are immediately removed. School names are the registered trademarks of their original owners. The use of any trade name or trademark does not imply any association with the school.