<!- mfunc search_box_body ->

<!- /mfunc search_box_body ->
<!- mfunc feat_school ->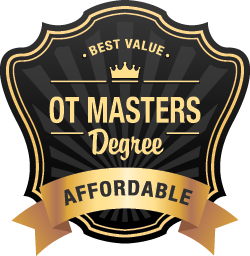 By nature, people drawn to careers in occupational therapy tend to be extremely astute observers. By the time this natural tendency combines with the formal training they get in a master's program, no detail is too small to escape their notice – the strange bluish discoloration of the fingernails on a nearby diner in a restaurant could indicate COPD… a passing pedestrian with an odd gait could be suffering from arthritis or a foot injury.
So as a future OT shopping around for a master's degree to prepare you for professional practice, we know you'll be picking apart the details for a precise understanding of exactly what you'll be getting for the money.
With the right set of skills and training, this evidence-based area of practice can be as lucrative as it is fun and personally rewarding. But it takes a substantial investment in the right kind of education to get there.
As you might imagine, in a field that offers all this, finding a master's degree program that doesn't break the bank is getting more and more difficult. Don't expect to find a cheap program no matter how hard you look, but you can find a program that gives you a lot for the money.
To find a real value like this, you're going to need some help, and we've got it for you here– a list of accredited occupational therapy master's degree programs with the very best student outcomes, at the very best prices.
Accreditation is the First, and Most Basic Check in Our Value Assessment
AOTA, the American Occupational Therapy Association, has been around in one form or another since 1917, so you're talking about a group of professional practitioners and advocates who definitely know what they are doing. As far back as 1923, while many other national medical standards bodies were still toddling around the room stumbling into furniture, AOTA had already established a firm set of educational standards for the training of occupational therapists.
Those standards, updated and enhanced, still exist today in the form of ACOTE (AOTA's Accreditation Council for Occupational Therapy Education) accreditation.
The latest revisions, effective as of 2013, offer a formidable set of qualifications for schools trying to join the ranks of the officially accredited.
And it's all assessed through a mountain of paperwork submitted by the school and assessed by ACOTE, followed up by on-site examinations and periodic reviews for renewal. And the examiners are as detail-oriented as other OTs… nothing escapes their notice.
The Final Test of Quality is How Well Students Do on The NBCOT Exam
The final test for how well that accredited program prepares you for professional practice is your performance on the National Board for Certification in Occupational Therapy (NBCOT) certification exam. And since passing the exam with a minimum total scaled score of 450 is a necessary precursor to getting a license to practice in every state, this is something that needs to rate pretty high on your list of things to care about when choosing a program.
But you're not interested in getting into the OT profession so you can meet minimum standards. With your career, your life and your professional integrity on the forefront of your mind, you're looking to achieve something you can be proud of, not merely satisfy requirements; you're striving for excellence.
That means that when it comes to selecting an accredited OT master's degree, you need to be looking for a program that has a proven track record for excellent student outcomes, and the best measure for this is how well previous graduating classes have performed on the NBCOT certification exam.
We only picked programs for our list that can boast a 100 percent pass rate on the NBCOT exam. So you know that not only do they pass the accreditation standard, but that they also are giving students the right tools to get licensed quickly.
100% Pass Rate + Tuition Lower Than the State Average = Great Value
OTs make good money, so you may be wondering why you should pick a low-cost school.
Unless you are starting out wealthy, an OT master's degree is probably going to involve taking out some loans. Having some student loan payments hanging over the first few years of your career may be inevitable, but they don't need to be so hard to manage that you're stressed. You're going to need every ounce of your mental energy during your first few years in practice, and you don't want any of it going to worrying about student loans.
This list is all about getting the most for your money, so we chose only the lowest cost option from the pool of programs with a 100% pass rate on the NBCOT exam. Every one of our selections offers a tuition rate below the overall state average for ACOTE-accredited programs in that state.
We pick two schools, where available, one public and one private, and all the tuition comparisons are like-to-like… the cost and benefit aspects are different for each type, so we don't make spurious comparisons. And if there was only one accredited OT master's in a state, we went ahead and included it. We feel all this comes together as the best way to present you with everything you need to see the full picture of what your options are.
And we really went down into the weeds to make sure you're getting an accurate picture of the costs. The per-credit tuition rates posted by some schools don't capture administrative fees or other costs that are still coming out of your pocket. So we totaled it all up to ensure that both our state average and the individual school rates are as accurate as possible, and true to what you'll actually be spending.
And because we know you care about more than just the cost, we give you the low-down on other factors that contribute to the value the program offers, along with all the important aspects you need to consider when making your decision.
*NBCOT-OTR pass rate data retrieved from the NBCOT School Performance database in November 2018 and reflects pass rate data for 2017. Some changes to individual school pass rates may have occurred since this list was published.
State by State Guide to the Best Value Occupational Therapy Master's Programs
What you're left with is a list of the very best OT master's programs offered at the very best prices in every single state. You can be sure any program you choose from this list has a proven track record for exceptional student outcomes and a tuition rate that's below the state average.
All schools shown here have been contacted and informed of their inclusion on this list. Schools that do not wish to be featured are immediately removed. School names are the registered trademarks of their original owners. The use of any trade name or trademark does not imply any association with the school.