<!- mfunc search_box_body ->

<!- /mfunc search_box_body ->
<!- mfunc feat_school ->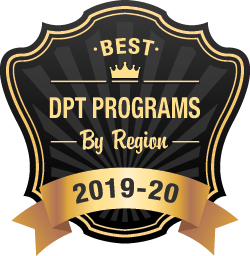 As recently as 1999, only 8 accredited entry-level Doctor of Physical Therapy programs existed in the United States. Back then nobody struggled to pick a top quality program from a pile of options; they were more likely to struggle trying to find one at all.
Fast-forward to today. APTA, the American Physical Therapy Association, now requires all PT programs designed to prepare students for professional practice to be doctorates, with a 2020 deadline for converting the last of the PT master's programs. Not only that, existing practitioners licensed under the old master's degree standard also need to head back to school to earn a DPT. Nearly every clinical PT master's program has already made the conversion, and state licensing requirements have followed suit.
A doctorate in physical therapy can cost you over six figures and take three years to complete. So you want to be pretty sure you're going to get everything you need from your program… that's a lot of loans to pay back.
That's why we put together this list of the top DPTs in each of the major regions of the country, only including those with a proven track record of exceptional graduate outcomes as evidenced by a 100% pass rate on the NPTE exam for recent cohorts.
Accreditation is the Baseline Standard for Doctor of Physical Therapy Programs
All of the programs on the list are fully accredited by CAPTE, the Commission on Accreditation in Physical Therapy Education.
CAPTE sets high standards for PT educational programs, including graduation and licensure rates, and looks hard at the clinical and academic performance levels that students are held to. Self-improvement and constant review are part of that process, so that the schools have to adapt to the ever-evolving state of the art in PT in order to remain accredited.
That means that no program that holds accreditation achieves their high marks with low standards: they set a high bar and clear it.
Pass Rates Aren't The Whole Story
Although we used the 100% NPTE exam pass rate as our bottom-line criteria, pass rates alone won't tell you everything you need to know about a program, and it's not nearly enough for us to feel confident including it on our list of the very best, let alone recommending it to our readers. That's why we went deeper than data points in making our selections.
Graduate Outcomes
Beyond pass rates, these particular schools also have another bare minimum qualification in common: they also have track records for producing graduates that go on to accept positions within six-months of completing the program – 100% of the time.
Needless to say, a 100% employment rate is the single best indicator of how well a program will prepare you for a successful career, because just passing the license exam doesn't mean much unless you make the transition to professional practice soon after you pass it.
High-Quality Instruction Lays The Groundwork
Your instructors and mentors are key to your educational experience. You can't, by definition, learn anything that they don't know. So you need well-educated, highly experienced professors who are willing to take the time to convey the key scientific concepts and practices of the profession in ways you can understand. Each of these programs has shown their commitment to putting together quality faculty teams that bring their professional experience, contributions to research and literature, and commitment to excellence in practice to the lecture halls and labs of the institutions they serve.
State of the Art Facilities Provide the Best Preparation
These schools have also invested in high-quality learning environments. That means labs with advanced 3-D motion tracking analysis, community clinics or outreach programs where students can get immediate hands-on experience, and research libraries with the latest information and access to deep academic databases.
Learning the Ropes of Working on Cross-Functional Care Teams
Many of the schools are also part of or co-located with teaching hospitals. That offers you a golden opportunity to learn together with other budding professionals. This means the communication and coordination standards of the cross-functional care team is built right into your curriculum. With a growing emphasis on a team approach to patient care, this kind of exposure is a vital aspect of preparing for professional practice.
Clinical Experience Is Formative For New PTs
Since clinical experience is formative for newly-minted PTs we looked hard at the clinical internship programs offered by each of these schools. Programs with diverse and numerous placement options were weighted more heavily than those with relatively few choices. We also preferred schools with multiple, rotating placements to give you a variety of experiences, as well as those that include some on-campus clinical exposure apart from the internship placements. Schools with community clinics or regional assistance programs where you can volunteer to help with patient treatment met this criteria.
Research Programs Build The Background For Evidence-Based Treatment
Research can be a matter of preference for PTs, many of whom will go on to work in clinical settings where they never conduct another study in their lives. However, learning to value the evidence-based practice paradigms that are coming into prevalence in the profession as well as understanding how that evidence is collected and reported can be a vital component in life-long learning for every PT.
So schools with strong research programs got an extra look from us since it provides students with the possibility of some first-hand exposure to groundbreaking studies, and because it contributes to the school serving as an indicator for high-level faculty expertise.
Major Rankings Show Community Respect
We also considered other perspectives, such as rankings by major review agencies like U.S. News & World Report (if you see several schools listed as #1 on their list, it's not a typo… they allow ties!). Many of these rankings have been awarded year-after-year, demonstrating a consistency in quality education that is the hallmark of a strong, systemic educational program.
Best of the Best: Top DPT Programs with 100% NPTE Exam Pass Rates by Region
Because there are just over 200 DPT programs in the United States, there's a good chance you'll be hitting the road to get your degree. It makes sense that you will want to stay in the region where you plan to practice, both for professional and practical reasons. That's why we organized the list according to region.
Wherever you are in the United States or wherever you plan to practice, you'll find a strong, regional option for your DPT here that will set you up for a long, successful career in physical therapy. We stand behind our recommendation for every one of these programs, and provide all the details you need for a clear understanding of why they are counted among the very best.
---
This list features programs that our editorial staff hand selected to present as top recommendations. We believe the many aspects of a program that come together to create an exceptional student experience can't be reduced to numbers alone, so no formula was used to attempt to score or rank these programs. Instead, they represent our top picks based on a thoughtful review of the things we know mean the most to students. Each one of these programs offers something unique, and all come equally highly recommended. We stand behind the principal of editorial integrity and make these recommendations independently and without compensation.
---
All schools shown here have been contacted and informed of their inclusion on this list. Schools that do not wish to be featured are immediately removed. School names are the registered trademarks of their original owners. The use of any trade name or trademark does not imply any association with the school.