<!- mfunc search_box_body ->

<!- /mfunc search_box_body ->
<!- mfunc feat_school ->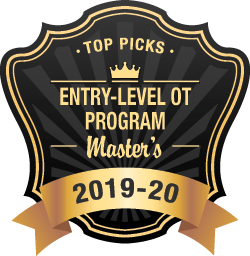 Occupational therapy remains a profession that offers constant and wide-ranging job opportunities, lucrative pay, and high demand. According to the Bureau of Labor Statistics, OT jobs are expected to explode between 2016 and 2026, expanding by more than 24 percent. With a median salary of more than $83,000 per year, that's a lot of well-paying jobs to go around.
The reason for the expanding need is simple: the occupational therapy creed of helping people live meaningful and fulfilling lives has lined up perfectly with trends in population demographics, and with modern healthcare industry concerns about quality of life issues.
Among those demographic trends is an ever growing population of people living to a more advanced age, and dealing with the conditions often associated with it. Combine that with a profusion of new diagnoses of disorders along the autism spectrum and disabilities affecting children, and the OT role has jumped in importance at all ends of the lifespan and in every setting, from schools and physiotherapy clinics to assisted living facilities and gerontology practices.
To get one of these jobs, though, you're going to need a license, and to get a license, you're going to need to earn a master's degree from an ACOTE-accredited degree program. Naturally, you'll be looking for a program that brings together all the elements that make for an outstanding learning experience and a great value.
We've got you covered.
Accreditation Sets the Baseline For the MOT Programs We Considered
With such a wide array of roles in the healthcare field, it's even more important that every OT graduates from a program with a strong baseline in the fundamental theory and practice of the trade. Program accreditation involves an evaluation process that investigates every aspect of an OT master's program before giving it the stamp of approval. It's the standard by which the National Board for Certification in Occupational Therapy (NBCOT), your state licensing board, and even prospective employers validate your educational credentials.
Without a master's degree from a program accredited by ACOTE, the Accreditation Council for Occupational Therapy Education, you're going to have a hard time establishing eligibility to take the NBCOT certification exam for your OTR, let alone getting a license to practice in your state.
Formed and run by AOTA, the American Occupational Therapy Association, ACOTE or its predecessors have been in the business of evaluating and affirming the credentials of OT programs since 1923. That's a lot of experience, and it has paid off in a well-managed, smoothly-operated process that nonetheless is as tough as nails.
ACOTE requires that programs have the right resources to deliver the education required. That means adequate facilities, capable administrators and professors, and dedicated fieldwork coordinators. Faculty have to be currently licensed or credentialed OTs, the school has to demonstrate academic standards in line with professional expectations in the field, and marketing and advertising for the program must be found to be in line with what the school actually offers.
It's an exhaustive array of details and specifications that some schools take years to meet. And once standards are met, the program will still be re-evaluated every seven years to make sure standards are always up to par.
Those are the exacting standards that every program we reviewed has met, making it the baseline standard for the exceptional programs we ended up selecting for this list.
How We Picked Programs For The List
With ACOTE-accreditation as the starting point, we did one more general filter to be sure we only considered programs with a proven track record for stellar student outcomes before starting in on the more qualitative phase of our assessment process: We looked exclusively at the elite class of schools that produced graduating cohorts with a 100% pass rate on the NBCOT exam in 2017 – the most recent year recorded. It's a simple way to isolate the best performing schools, but it's also the clearest indicator of how well a program will prepare you with the kind of skill and knowledge mastery you need to ace the exam and transition confidently into professional practice.
With the baseline established, we then began the more involved task of hand selecting the programs we feel represent the best overall value by creating an exceptional student experience that results in the best possible preparation for professional practice.
We evaluated the schools based on the availability of resources and the quality of their teaching facilities. We looked at faculty qualifications and special educational opportunities that they make available to students, like debates, guest presenters, and extracurricular activities.
Some schools offer exciting overseas study opportunities, which were worth a few extra points in our book. We also gave a second look to schools either co-located or closely affiliated with larger medical schools, which gives you an opportunity to interact with other healthcare professionals during the course of your training and inculcate you in the cross-functional care teams that are becoming standard in American medicine.
We even considered what other evaluators and publishers had to say, such as the Princeton Review and the Carnegie Foundation. If their thinking lines up with ours, it's a pretty good sign you're looking at a superlative degree program.
Organized by Region for a Good Reason
There are only 166 ACOTE-accredited master's programs in the United States and OT is a very hands-on profession, so there's a good chance you're going to have to travel to get your degree. But it's beneficial to both your pocketbook and your career if you can get your education in the same region of the country where you plan to practice.
You'll encounter graduates of the same program, meet a lot of potential networking contacts in school, and get a first-hand view of a lot of potential employers in the area. Those employers, in turn, will be familiar with the education you got and have a comfort level with you that they might not enjoy with students from outside the region.
Top Picks: Our Favorite OT Master's Degrees in the U.S. by Region
We've weighed the aspects of every program that make it unique, and picked only the very best of the best for this list.
---
This list features programs that our editorial staff hand selected to present as top recommendations. We believe the many aspects of a program that come together to create an exceptional student experience can't be reduced to numbers alone, so no formula was used to attempt to score or rank these programs. Instead, they represent our top picks based on a thoughtful review of the things we know mean the most to students. Each one of these programs offers something unique, and all come equally highly recommended. We stand behind the principal of editorial integrity and make these recommendations independently and without compensation.
---
All schools shown here have been contacted and informed of their inclusion on this list. Schools that do not wish to be featured are immediately removed. School names are the registered trademarks of their original owners. The use of any trade name or trademark does not imply any association with the school.