<!- mfunc search_box_body ->

<!- /mfunc search_box_body ->
<!- mfunc feat_school ->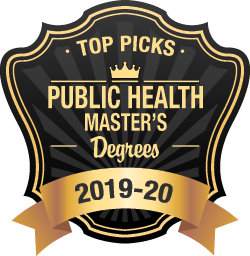 Public health is a fascinating area of study for a lot of reasons. While it's important enough that nearly every state has at least one school offering a master's in public health, it's still niche enough that in many cases that one school represents the only option in the entire state.
This means that for many prospective grad students, the type and quality of education available up the street can be considerably different from what is found in other parts of the country… making options that actually stand out in side-by-side national comparisons very limited, or even nonexistent.
This is an important thing to consider given the global nature of public health in the 21st century. While there will always be extremely important work to be done even in the smallest of American communities, there is rarely an issue in public health that isn't in some way connected to what's going on in other parts of the country, or even the world. Similarly, solutions to those issues are often informed by established precedent and the research that has taken place beyond the domestic front. This makes it a wise idea to go for an MPH that holds its own on the national and international stage.
So it's important to look at outside resources when searching for a program, a place where you can find options that have been fully vetted and thoroughly reviewed, compared against competing schools coast-to-coast, and then hand selected.
Although we have listed the schools by state, we didn't try to force in any programs that didn't fit. You will find that many states don't have any schools that met our high standards and therefore didn't make the list, while other states have several programs we felt were worth including.
What's left is the top tier of American public health schools, and the only ones we feel confident calling the very best.
Excellence in Public Health Education Starts With CEPH Accreditation
Council on Education for Public Health (CEPH) accreditation is a big deal for any school of public health. The council is recognized by the U.S. Department of Education as an approved accrediting agency for public health degree programs. No serious, competent MPH degree in the country is offered without first earning CEPH accreditation. In fact, graduating from a CEPH-accredited program is a requirement just to establish your eligibility to sit for the NBPHE's Certified in Public Health exam.
CEPH accreditation is not an easy bar for schools to clear. The 50+ page criteria outline covers a raft of documentation and standards that applicant schools have to supply and meet, covering aspects as varied as student engagement in departmental policy-making to school autonomy to student outcome tracking.
Additionally, CEPH mandates that every program cover a set of 22 core competencies across 8 different categories:
Evidence-based Approaches to Public Health
Public Health and Health Care Systems
Planning and Management to Promote Public Health
Policy in Public Health
Leadership
Communication
Interprofessional Practice
Systems Thinking
As you can tell, it's a broad set of standards that serve to prepare graduates for real-world practices in a complex field. CEPH accreditation ensures that a program has what it takes to produce MPH graduates capable of rising to that challenge.
It Takes More Than Accreditation for an MPH Program to Earn the Top Spot
Because we're looking for only the best schools, we dug deep looking at every CEPH-accredited MPH program, identifying the ones that bring together the elements we know mean the most to ambitious grad students. We considered how those attributes compared to all other schools across the country, and selected the ones we feel confident calling the very best.
Among the most important points we considered were curriculum and the options for customizing it, the kind of research taking place at the institute, the experience and reputation of instructors, and overall value.
Options for Custom Tailoring Your Curriculum
Public health as a field and an area of study spans an enormous breadth of subjects, far too many for general programs to cover every possible aspect in depth. Concentration options offered as part of an MPH program provides students with an opportunity to focus on the specific area of concern that means the most to them.
Of course, every CEPH-accredited program has a core curriculum that covers biostatistics, social justice and ethics, epidemiology, health policy, and the social, environmental, and biological aspects of health. This foundational knowledge can be complemented and built upon with more in-depth expertise in a chosen area of focus.
So we looked carefully at the breadth and selection of concentrations offered at each school, from common options like biostatistics and epidemiological variants, to more obscure and emerging areas like public health marketing, biosecurity and gerontology.
We also didn't hesitate to highlight schools that are strong in just one particular aspect of public health education, whether it's their analytical and quantitative approach to public health investigations or options that address working with highly specific populations such as Native Americans or Pacific Islanders.
Dual Degree Options
Building off of the concentration options are the dual degree offerings, the combination master's programs that can make you the master of multiple different fields in one intensive course of study. Some also offer accelerated options that combine bachelor and master's programs into a single five-year unit, a faster and less expensive way to an advanced credential if you plan your studies properly. We gave weight to those schools with a strong set of advanced degree offerings that could be earned concurrent with the MPH, and we listed all the duel degree options for each program that made our list.
Funding and Contributions to Research
Public health is synonymous with deep investigations into everything from the causes and sources of disease outbreaks to how disease and even behavioral patterns propagate through communities. Naturally, epidemiologists and public health officials seek to understand these things in an effort to mitigate effects, prevent future public health threats, and, of course, to develop direct clinical and social solutions in the form of everything from vaccines to public health education campaigns.
Much of this work takes place at the very same institutions that offer MPH programs. In assessing programs on the merits of their research contributions, we looked to see if they have strong research funding and respected research centers and initiatives, whether located on campus or otherwise run by faculty researchers.
School and Faculty Reputation
A school's name can tell you a lot. When an institution has built a name for itself in the public health sphere over generations, its reputation often precedes it. As much as you and your employer might appreciate name recognition and the strong reputation a school might have, it's really the reputation of the faculty that should mean the most to you when selecting a program.
Reputations in academia are hard won so you can be sure if you have an instructor with a name you've heard before, it's the result of an equally impressive background and the important contributions they've made to literature and research in the field. We feel that a deep bench of experienced faculty is the single strongest distinguishing factor for greatness in a public health grad program. Even if a school is lacking in the kind of name recognition that would cause it to be as familiar to someone in New York as it would be in Nebraska, they would still be a strong contender for our list if the faculty there were impressive enough to get our attention.
Overall Value
No public health initiative is launched with a blank check, so anybody getting into public health policy and program management needs to have an appreciation for how to get the most out of every dollar spent. This could very well start with your appraisal of your MPH options and the decision you end up making about which one is right for you.
Value is a measure of both quality and cost. As a grad student looking for the best program available, you certainly wouldn't expect the best to also be the cheapest. You just want to know that you're getting a great value for your education dollars. At the end the day, if a program isn't able to offer at least as much as it's competitors and do so at a comparable price, it wasn't a contender for our list.
Top Picks for the Best Master's in Public Health Degrees for 2023
We took a long and thoughtful look at all the CEPH-accredited programs out there, giving careful consideration to all these points, and distilling it down to this list of recommendations.
Somewhere here, you'll find the program that's perfectly aligned with your own career goals and aspirations.
This list features programs that our editorial staff hand selected to present as top recommendations. We believe the many aspects of a program that come together to create an exceptional student experience can't be reduced to numbers alone, so no formula was used to attempt to score or rank these programs. Instead, they represent our top picks based on a thoughtful review of the things we know mean the most to students. Each one of these programs offers something unique, and all come equally highly recommended. We stand behind the principal of editorial integrity and make these recommendations independently and without compensation.
All schools shown here have been contacted and informed of their inclusion on this list. Schools that do not wish to be featured are immediately removed. School names are the registered trademarks of their original owners. The use of any trade name or trademark does not imply any association with the school.