<!- mfunc search_box_body ->

<!- /mfunc search_box_body ->
<!- mfunc feat_school ->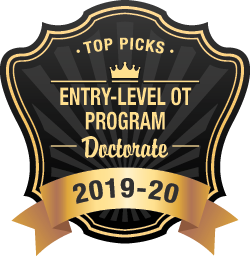 By choosing an entry-level occupational therapy doctorate program as your route into the profession, you are signaling your commitment to enter the top ranks of OTs in America.
While there has long been a discussion among practitioners, educators and the major agency stakeholders AOTA and ACOTE about the DOT becoming the entry level requirement for professional practice, the proposal has been tabled for the time being. With a master's degree still being perfectly acceptable for getting into the field, going the doctorate route is a choice, and one that's reserved for the most ambitious and forward thinking future OTs.
And it's a rewarding choice on top of that, one that exchanges a little extra time and money for additional semesters of education on the elements of practice that separate the average OT from the leaders in the field. DOT programs deliver more of everything that make practitioners exceptional, from more advocacy training and opportunities to explore theoretical concepts to more clinical experience and advanced research practice.
With a doctorate, you'll also get an additional 16-weeks of experiential training and undertake a culminating project that serves as a capstone to that training. It's an advanced approach to OT education that by itself could be well worth the extra time and money spent earning a DOT.
Naturally, you want to be sure the extra effort and expense makes for a wise investment. And that means picking only the best OTD program, the one that lines up with your career goals and the expectations you have of what advanced OT training should deliver.
That program is somewhere on this list.
ACOTE Accreditation Offers A Quick Quality Screen
It's not worth your time to even look at any program, at any level, that isn't accredited by ACOTE, the Accreditation Council for Occupational Therapy Education, the accrediting arm of the American Occupational Therapy Association.
AOTA has been putting its stamp of professional approval on American OT programs for nearly 100 years and is recognized as a specialty accreditor by both the Council for Higher Education Accreditation and the U.S. Department of Education (DOE).
That means ACOTE has the expertise and the experience to evaluate OTD programs and verify that what these programs offer is aligned with the expectations of the larger OT and medical communities. That involves going through reams and reams of paperwork and subjecting staff to exhaustive interviews, followed up by on-site visits where evaluators can eyeball facilities and classrooms in person. Constant re-appraisal and re-accreditation follows to ensure that standards aren't allowed to slip.
You won't find any school on this list that doesn't have ACOTE accreditation, and you shouldn't seriously consider anything less.
Beyond Accreditation: Picking The Gems From The Stones
Accreditation is just where we started, though. The much more involved work of isolating the programs we could feel good about recommending to future OTs as the very best meant performing our own in-depth assessment.
We looked at everything from faculty credentials and hiring standards, to lab and research resources available to students, to the variety of diverse clinical partnerships in place for fieldwork opportunities, to how well past students performed on the NBCOT exam.
Specialist Training
All entry-level programs offer a strong generalist education to prepare you for practice in almost any patient care environment. Specialist training is generally viewed as a pursuit to be taken on after graduation and certification.
Still, some of the programs here offer exceptional preparation in various OT specialty areas, while others offer an implicit boost through faculty or facilities that are nationally or internationally known for particular specialties.
Faculty Excellence
Instructors are an extremely important part of your education as an OT. We looked for programs that have nationally-recognized faculty, including AOTA Fellows, and also highly qualified clinical mentors at field placement sites.
With a heavy emphasis on experiential clinical learning, your field placements take on added importance, and having quality instructors outside the classroom has an enormous impact on the quality of your training.
Fieldwork
Fieldwork is one of the things that sets the OTD apart from lesser degrees, so you want to make sure you are getting the most out of the experience.
We looked through both the variety and quality of fieldwork opportunities that are offered at each of these schools, including clinical partnerships in the community and beyond. Whether the program focuses on underserved areas of your own home town, or offers international placements or tours, the breadth of opportunities are part of what helps them shape students to become outstanding OTs.
Labs and Facilities
As a form of therapy that's all about assisting people perform the normal activities of daily living on their own, training needs to take place in settings identical to the ones where people actually live and do all the things that are a normal part of life. Like almost no other profession, OT methods and practices can only be taught effectively in environments that exactly replicate the real world. Also, learning in realistic simulated settings is the only way to develop a deep understanding of the patient experience, something that is fundamental to becoming a great OT.
All programs train OTs in simulated real-world environments, but programs housed in schools that go the extra mile to provide students with realistic driving simulators, and facilities that feature every relevant detail you'd find in a typical home or workplace show a real commitment to preparing students to be both effective and capable of relating to what patients experience every day.
Graduate Outcomes
Though it's clear that most things that really make a program special can't easily be represented as a number, there are exceptions: Nothing provides an objective representation of how well a program prepares students with the technical knowledge and skills they need to make the transition from student to practitioner than NBCOT exam pass rates and post-graduation employment rates.
When the information on exam pass rates and employment was available and current, we considered that too in making our selections, and included the information here for you to see.
Top Picks: 15 Best OT Doctorate Programs in America
You'll need a bachelor's degree at a minimum before applying and every program requires certain prerequisite coursework in the physical sciences. Most have GPA standards and some require that you take the GRE, with or without minimum qualifying scores. Most programs also require that you have a certain number of observation or volunteer hours with a qualified OTR/L at one or more locations before applying. Some of the programs offer a combined or accelerated degree path that will whisk you right through a pre-OT bachelor's program and into the doctorate-level studies in as few as six years. This is all information that will help you in making your selection, so you can be sure we included it here.
If you have the dedication it takes to make an OTD program your path into the profession, you deserve the very best. There's a lot of different ways to train an OT to the same standard, and these schools represent a wide array of approaches… one or more of which will certainly match your personal preferences
You can't go wrong with one of the 15 options on this list.
This list features programs that our editorial staff hand selected to present as top recommendations. We believe the many aspects of a program that come together to create an exceptional student experience can't be reduced to numbers alone, so no formula was used to attempt to score or rank these programs. Instead, they represent our top picks based on a thoughtful review of the things we know mean the most to students. Each one of these programs offers something unique, and all come equally highly recommended. We stand behind the principal of editorial integrity and make these recommendations independently and without compensation.
Recently Developed OTD Programs
In a relative sense, most OTD programs are quite new, developed as an extension of legacy MOT and MSOT programs to meet a recent and growing demand for an entry-level option that provides a higher level of expertise and career preparation. But, of course, some are newer than others.
As programs that only recently began enrolling students, these three OTDs needed a classification of their own. Even without a record of NBCOT exam pass rates or graduation rates to consider, these programs have been developed in departments that have years-long track records for producing well-prepared and highly sought after OTs and other healthcare and health sciences professionals. Though new to the education space, these DOT programs are very much deserving of their place on this list, and come highly recommended.